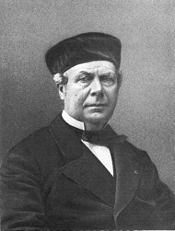 Aristide Cavaillé-Coll 4 February 1811 – 13 October 1899), was a French organ builder. He has the reputation of being the most distinguished organ builder of the 19th century.[1] He pioneered innovations in the art and science of organ building that permeated throughout the profession and influenced the course of organ building and organ composing through the early 20th century. The organ reform movement sought to return organ building to a more Baroque style; but since the 1980s, Cavaillé-Coll's designs have come back into fashion. After Cavaillé-Coll's death, Charles Mutin maintained the business into the 20th century. Cavaillé-Coll was the author of many scientific journal articles and books on the organ in which he published the results of his researches and experiments. He was the inventor of several organ sounds/ranks/stops such as the flûte harmonique.
Born in Montpellier, France, to Dominique, one in a line of organ builders, he showed early talent in mechanical innovation. He exhibited an outstanding fine art when designing and building his famous instruments. There is a before and an after Cavaillé-Coll. His organs are "symphonic organs": that is, they can reproduce the sounds of other instruments and combine them as well. His largest and greatest organ is in Saint-Sulpice, Paris. Featuring 100 stops and five manuals, this magnificent instrument, which unlike many others remains practically unaltered, is a candidate to become a UNESCO World Heritage Site.
Cavaillé-Coll was also well known for his financial problems. The art of his handcrafted instruments, unparalleled at that time, was not enough to ensure his firm's survival. It was inherited in 1898, shortly before his death in Paris, by Charles Mutin. He continued in the organ business, but by World War II the firm had almost disappeared.
Marcel Dupré stated once that "composing for an orchestra is quite different from composing for an organ… with exception of Master Cavaillé-Coll's symphonic organs: in that case one has to observe an extreme attention when writing for such kind of majestic instruments." Almost a century beforehand, César Franck had ecstatically said of the rather modest Cavaillé-Coll instrument at l'Eglise St.-Jean-St.-François in Paris with words that summed up everything the builder was trying to do: "Mon nouvel orgue ? C'est un orchestre !" ("My new organ? It's an orchestra!"). Franck later became organist of a much larger Cavaillé-Coll organ at Ste. Clotilde in Paris. In 1878 Franck was featured recitalist on the four-manual Cavaillé-Coll organ at the Palais du Trocadéro in the Trocadéro area of Paris; this organ was subsequently rebuilt by V. & F. Gonzales in 1939 and reinstalled in the Palais de Chaillot which replaced the Palais de Trocadéro to Palais, then rebuilt in 1975 by Danion-Gonzales and relocated to the Auditorium Maurice Ravel in Lyon. Franck's Trois Pièces were premiered on the Trocadéro organ.